Larry H. Miller Toyota Boulder serves the Mountain States region with genuine Toyota tires, parts & accessories. Our Boulder Toyota Service Department will help you select the perfect tires for your vehicle and install them the same day! Browse our large selection of Toyota tires for trucks, SUVs and sedans or call our Toyota Service Advisors at 866-617-6139 for more details.  
How does the Price Match Guarantee work?
If you find a better price on the same tire, Toyota will match it.
If a purchase is made within 30 days of purchasing the same tire from the dealership, Toyota will refund the difference to you.
Who can take advantage of the Price Match Guarantee?
All customers who purchase eligible tires from a participating Toyota dealership who find a lower price within 30 days can benefit.
PLEASE NOTE:
Customers are responsible for finding eligible competitor quotes.
Toyota dealerships cannot assist their customers in locating lower prices.

What are the requirements for competitor quotes?
You must present a printed competitor quote for the tire you wish to price match.
Tires featured on the quote must be in stock at the competitor.
Competitor must be a local (within 25 miles of the Toyota location) tire retailer and installer.
Warehouses do not qualify as retail locations. Costco and Sam's Club warehouse clubs do qualify.
Internet quotes are valid only if from a competing local tire retailer and installer.
Our tires include 24-month road hazard coverage, so the competitive quote should also include it. If it does not, add 10% to the competitor price to compensate.
Which tires are eligible?
Your Assistant Service Manager will recommend eligible tires that meet the specifications of your vehicle in accordance with the owners manual.
What doesn't the Price Match Guarantee cover?
Charges for mounting and balancing labor, wheel weights, or any other fees are not included.
Bundled offers, clearance or closeout price quotes, coupons, competitor quotes that resulted from a price match, used tires, and tires from other automotive dealers are not eligible.
Find directions to Boulder Toyota below: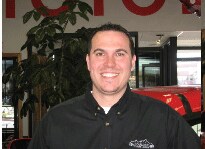 Andre Alire Boulder Toyota Service Mgr.

Hours
Monday

7:00 am - 6:00 pm

Tuesday

7:00 am - 6:00 pm

Wednesday

7:00 am - 6:00 pm

Thursday

7:00 am - 6:00 pm

Friday

7:00 am - 6:00 pm

Saturday

Closed

Sunday

Closed
No one knows how to care for your Toyota better than the experts at Larry H. Miller Boulder Toyota. Toyota Trained and Certified Technicians know your vehicle inside and out. When it comes to parts, including tires, your dealership understands that the right components provide superb performance and handling for the highest quality standards. Trust us to have the right tires when you need them. Help ensure a safe, comfortable ride with a set of Toyota-recommended tires.
Whether you drive a
Corolla
,
Camry
,
Tundra
,
RAV4
or any other
BoulderToyota model
, your tires were selected to provide superior performance and comfort. Toyota performs extensive evaluations to determine which tires are best suited for each vehicle. You can trust that your local Toyota Tire Center includes the approved, recommended brands to deliver the best driving experience.
The
Boulder Toyota Tire Center
provides tire options in all approved sizes to meet most customers' brand preferences. Competitively priced tires are selected to provide an exceptional driving experience with characteristics including superior handling for wet or dry traction, stability, tread life, acoustics, comfort and rolling resistance, which impacts fuel economy. These considerations, as well as load and speed ratings, determine which brands and tire types are approved for use on your vehicle.
When it comes to replacing your tires, and you and your family's safety are of primary concern, don't rely on the old "Honest Abe" measurement.  There is much more involved in the equation.  Have our experts check your tires next time you stop in, we're happy to do it!
Schedule an Appointment Online today!
At Boulder Toyota we perform high quality and guaranteed service at a fair price.  With the latest diagnostic equipment we can guaranteed your service is performed correctly and still maintaining your manufacturer's warranty.
All of our service are competitively priced, yet we still offer monthly coupons with discounts and special offers.
View our coupons!