The Toyota 4Runner is a holdout in the modern era, but it can still kick up its heels in the dirt
You can't confuse the Toyota 4Runner for anything else in the lineup. You can't really confuse it for anything else, anywhere. And that's not just because the 4Runner hasn't seen any major redesigns since about 2009--it's because Toyota has landed on a pretty solid recipe for an all-terrain, off-roading, truck-based SUV that's as good of a fit for VanLifers as it is for suburban families who make the effort to get out of town on the weekends.
The 4Runner (stands for "4-Wheel-Drive Off-Road Runner") starts at under $35,000 and has a variety of trim-level options that make it a tempting option for a variety of drivers. Choose from entry-level models like the 4Runner SR5 or SR5 Premium, the well-equipped 4Runner Limited, or heavy-duty options like the 4Runner TRD Off-Road, TRD Off-Road Premium, and TRD Pro.
If you're the type who's always looking for the newest thing, the avant-garde and the modern marvel, the wildest new tech, the 4Runner may not be what you want. But if what you want is an incredible adventure partner that can handle any weather, any road, any trail (or lack thereof), and any precipitation from sandstorms to blizzards, the 4Runner is exactly what you need.
Generational evolution and iconic style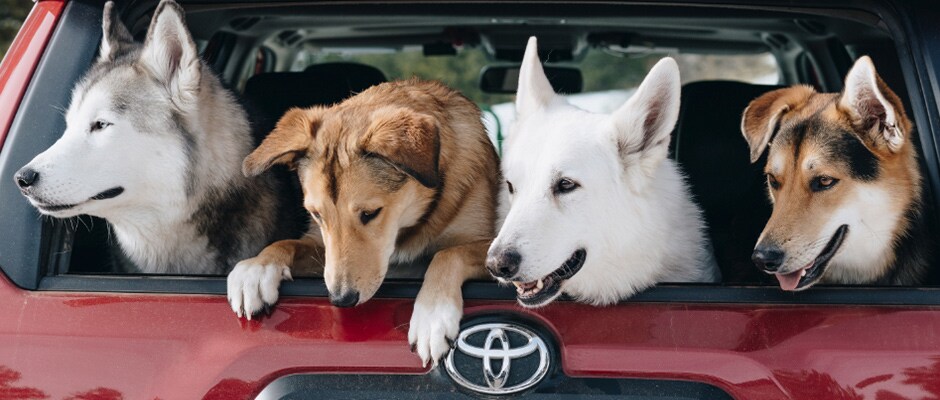 In the very early 80's, there was something called the "Toyota Trekker", which was essentially a tiny pickup truck with a cap slapped on the bed. In 1984, the very first 4Runner nameplate was produced, but it still featured a similar body-on-frame construction with a removable hardtop shell. 1990 brought about the second generation of 4Runner SUVs that were built more like the conventional sport-utility vehicles of the day--except that the intriguing ye-olde model offered a cab-style two-door option. A truck-based sport utility coupe? Maybe Toyota was ahead of its time, though, because the short-lived two-door 4Runner was dead by the third generation, which rolled out in 1996.
Toyota's hardy off-roader is currently in its fifth generation, which first came out in 2009 and has mostly seen updates to the interior, technology, and safety features since then. The general styling and design of the exterior remains the same--but, so do the underpinnings. Unlike most SUVs today, which have moved to unibody construction in an attempt to maximize fuel economy, the 4Runner has held fast to its body-on-frame build. It also equips skid plates all along the underbody to protect the front suspension, gas tank, and the engine. On 4WD 4Runner vehicles, there's an additional skid plate to cover the transfer case, too.
All of this rugged construction makes the 4Runner one of the lesser-efficient models, but it also makes it one of the strongest and the sturdiest 4WD SUVs you can buy--probably why Toyota claims that 90% of 4Runners sold in the last decade are still hitting trails all over the country. Added features like a standard full-size spare tire and tons of utility gear prove that this SUV isn't going to compromise an inch to better fit the softer lifestyles that most SUVs are leaning toward.
Looking for a more unique style for your 4Runner? TRD Off-Road and TRD Pro models include unique trim-exclusive badging and interior accents, and bigger wheels. Exterior color options for the Toyota 4Runner include Nautical Blue, Super White, Blizzard Pearl, Classic Silver, Magnetic Gray, Midnight Gray, Barcelona Red, and Calvary Blue.
Seating and interior space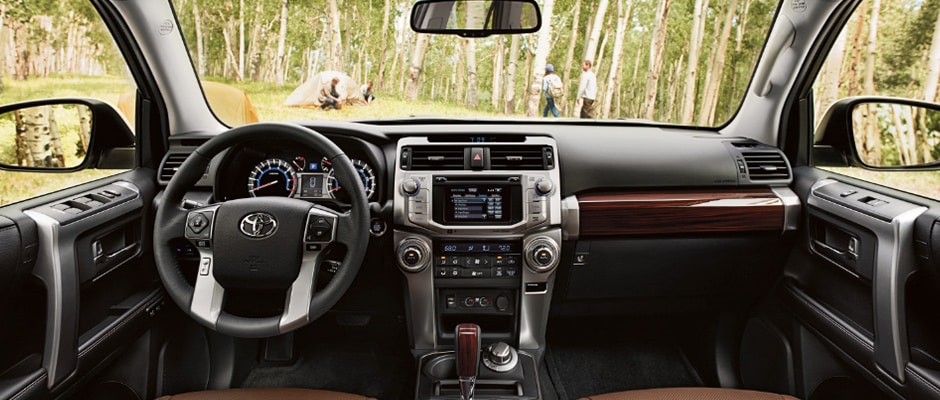 The 4Runner was made to find fun and get into the mud just about anywhere it goes--but that doesn't mean it can't be comfortable. If you're shopping for a 4Runner with the intention of bringing along a crew, SR5, SR5 Premium, and Limited models can all be ordered with a third-row seat to bump up total passenger capacity to seven. All TRD-branded models can only be ordered in a two-row seating configuration for a maximum (legal) seating of five passengers--but by the time you're shelling out for a TRD performance SUV, you're probably only bringing along a few friends, or just a single partner.
The seats are comfortable and roomy, so you won't be itching to get out of the car midway through your multi-hour excursion into the woods, desert, or across the plans. Toyota offers SofTex easy-clean leather-like upholstery on models like the SR5 Premium and the TRD Off-Road Premium, and perforated leather upholstery (with heating and ventilation functions for front seats) on the one-of-a-kind Limited trim.
You buy a 4Runner to get a little closer to nature--an available power moonroof makes it simple to let in some extra light or some added fresh air when you've managed to escape the hustle and bustle of the city after work.
Cargo capability and storage
But, what about gear? Oh, the gear you can bring. With the second row folded (mostly) flat, the 4Runner gives you up to 88.8 cubic feet of cargo space. That's even more space than the Highlander SUV, and more than 16 cubic feet more than the Jeep Wrangler. There's no other rough-trail-crushing SUV in this price range that will give you more room for equipment, bags, tents, hiking and fishing gear, and mountaineering supplies; or, more ways to customize it to your needs.
The Toyota 4Runner offers power-sliding rear glass at the back windshield--not only does this let in some extra air if you're parked at a stop, it lets you easily reach in and grab what you need without having to open up the whole hatch. If you need to sort through to find something, though, an available sliding rear cargo deck makes it easy. The deck can hold over 400 pounds, too, so you won't have to worry about piling the gear on. For added convenience, the 4Runner offers a 120V AC outlet in the back of the cargo area for charging phones, tablets, cameras, or tools. Heavy-duty roof rails, standard on even the base 4Runner model, make it even easier to gear up before a big trip.
Engine power and performance
There are some SUVs out there that boast bigger numbers for performance than the 4Runner--but remember, this utility vehicle was never meant to be a racecar or a suped-up performance crossover. It was meant to grip, haul, and crawl. And at that, it is very good.
Standard power for every fifth-gen 4Runner comes from a 4.0-liter V6 engine that's good for 270 horsepower and 278 pound-feet of torque. Somewhat surprisingly, this large-and-in-charge engine is paired to a five-speed automatic. In the world of seven-, nine-, and even ten-speed automatics and continuously-variable transmissions, the five-speed may feel a little outdated, but it's part of the recipe.
When properly-equipped, the 4Runner can tow up to 5,000 pounds.
Capability and off-road prowess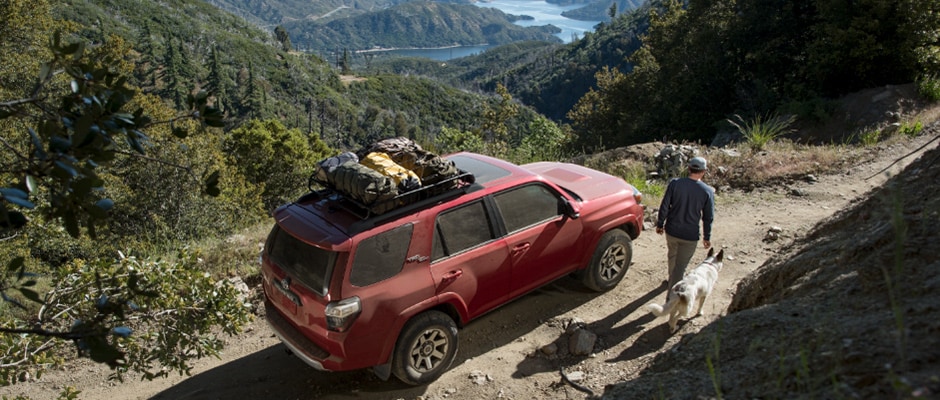 Here's where we really get into the bread and butter of the 4Runner: off-roading technology and performance. The technical side of its off-road power is an alphabet soup of acronyms: HAC and DAC, 4WD and RWD, A-TRAC and KDSS. If you don't know what all of those mean right off the top of your head, don't worry--it's fun to learn.
Models like the SR5 and the TRD Off-Road offer a part-time 4WD system with Active Traction Control, which the Limited opts for a full-time 4WD with A-TRAC and Torsen limited-slip center differential. Hill Start Assist Control and Downhill Assist Control give the 4Runner the edge on slip with smart-grip technologies, while Kinetic Dynamic Suspension System and Crawl Control keep you centered on even the worst roads. Multi-terrain Select modes give you the power to customize the performance of your SUV based on the land ahead.
Even the 4Runner TRD Pro starts under $45,000, which isn't all that bad for a truck-based SUV that's genuinely meant to hike mountains and cross deserts.
Why buy a 4Runner?
The Toyota 4Runner is not a luxury SUV--like the Mercedes-Benz G-Class. It's not a cushy family hauler like the Sienna, or a poky practical commuter like the RAV4. What it is, is a tough-mudding, rip-roaring, throwback-everyday, weight-lifting, dirt-pounding, pavement-eating four-wheel-drive SUV that does what it does better than anything else.
That answers the question.