The 2019 Toyota Corolla: Versatile and Dependable
Since its inception in the early 1980s, the Toyota Corolla in its numerous iterations has remained an automotive mainstay for the daily commuter, automotive enthusiast, and novice driver alike. With a projected half-billion Toyota Corollas produced by 2025 since production began under the Corolla name in the 1980s, it's likely nearly every driver throughout the nation has experienced a Toyota Corolla in some capacity. Whether carpooling as a passenger or driving as your first car, the Toyota Corolla consistently provides families, friends and commuters with a dependable, safe and straightforward vehicle worthy of its iconic reputation.
While the 2019 model year remains largely similar to its 2018 predecessor, the 2019 model year harkens back to the Corolla's sporty heritage with one notable addition: a hatchback model.
Retaining the straightforward engineering, simplistic interior design and unassuming exterior style, the 2019 Toyota Corolla hardly stands out from the hordes of Corollas on the road today. However, for the Toyota Corolla, this apparent banality stands as its greatest accomplishment: the ability to satisfy droves of drivers seeking a dependable, affordable, safe and comfortable sedan. The Toyota Corolla, in its numerous iterations, may stand as the pinnacle of utilitarian engineering - getting drivers from point A to point B without flare or flourish, defiantly embarking on travels with unwavering mechanical fortitude.
Design and Hatchback Models
While the 2018 model year featured the oddly designed Corolla iM, a mixture of Toyota and Scion components that hardly captured the market, the 2019 Toyota Corolla Hatchback stands poised to properly assume the mantle of the legendary AE86 Corolla Levin's performance legacy. The 2019 Toyota Corolla Hatchback offers drivers their selection of two unique trim levels: SE and XSE. The 2019 Toyota Corolla Sedan, however, offers a greater degree of model versatility - offering a wider selection to suit various budgets and preferences. The sedan's trim levels include: L, LE, LE Eco, XLE, SE and XSE.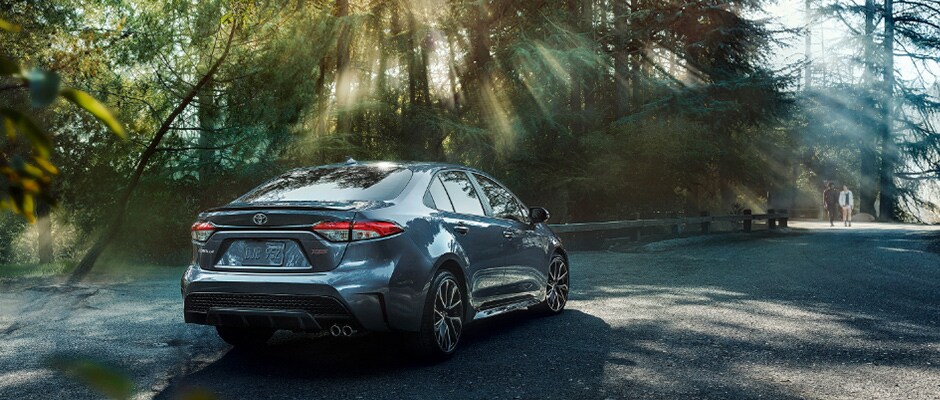 While the 5-door hatchback offers a more sporty appearance by nature, ultimately the 2019 model year retains relatively straightforward interior and exterior design. Ergonomic in its minimalism, stylish in its timeless simplicity, the exterior of the 2019 Toyota Corolla retains a robust and unassuming style, while the interior lacks the various premium materials and various technological features prominently displayed on numerous competing models. While inherently pedestrian, the Toyota Corolla's interior design doesn't need to rely on flashy features to sell, but rather focuses on perfecting straightforward craftsmanship to satisfy drivers and passengers alike with an affordable balance between convenience, comfort and capacity.
With 17.8 cubic feet of cargo capacity behind the rear seat of the hatchback model, and an anticipated 40 cubic feet or more with the rear seats folded down, the 2019 Toyota Corolla confidently accommodates groceries, sports equipment, backpacks and more with ease.
Performance and Powertrain Configurations
While the 2019 Toyota Corolla Sedan comes equipped with a lean 1.8-liter four-cylinder engine producing 132 horsepower and 128 pound-feet, its durability and efficiency ultimately stands as the Corolla's appeal. For drivers seeking an additional degree of both efficiency and power, the LE Eco trim features 140 horsepower and 126 pound-feet without compromising handling dynamics, comfort, or fuel economy. Equipped with either a manual transmission or smooth, gearless continuously variable transmission (CVT) for further improved efficiency and ease of operation, the 2019 Toyota Corolla employs the latest in Toyota engineering to ensure your travels remain unhindered by empty tanks of gas or poorly timed breakdowns.
For an additional degree of performance, the 2019 Toyota Corolla Hatchback features sportier styling alongside an upgraded powertrain. A 2.0-liter four-cylinder engine exerting 168 horsepower and 155 pound-feet surges the lightweight and agile hatchback down city streets and winding backroads with dynamic handling and intuitive performance for a ride quality comparable to its sport-inspired predecessors.
Technology and Safety Features
All 2019 Toyota Corolla models come equipped with the Toyota Safety Sense (TSS-P) Package, with a variety of active safety features to provide maximal peace of mind throughout your travels:
Automatic High Beams
Dynamic Radar Cruise Control
Pre-Collision System with Pedestrian Detection
Lane Departure Alert with Steering Assist
The 2019 Toyota Corolla Hatchback, between the aforementioned active safety systems and its robust construction, stands as an IIHS Top Safety Pick, while the 2019 Toyota Corolla Sedan still awaits its testing to prove its mettle.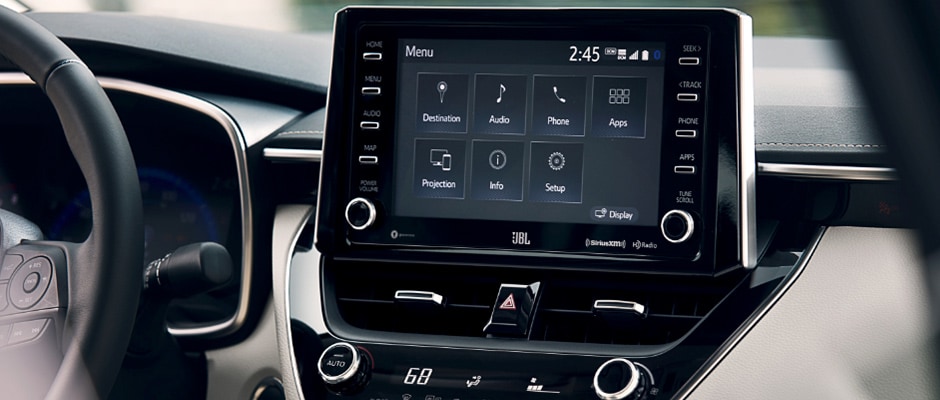 Further amending the active safety features, drivers receive their preferred iteration of the advanced and intuitive Entune infotainment system. The 2019 Toyota Corolla expands upon previous implementations of the Entune system through the incorporation of Apple CarPlay® compatibility. However, it ultimately falls short of including a sizable population of Google and Android smartphone users, lacking in its integration of Android Auto®. However, an available Scout GPS Link application available on the premium Entune system synchronizes your Android smartphone with the available navigation application for some semblance of Android connectivity. While lacking in its inclusion of various systems, the Entune system does provide navigation, various convenience applications, and an intuitive seven-inch touchscreen display. While lacking in various features, the Entune system still provides an ample degree of modern convenience.
The 2019 Toyota Corolla: Still A Worthy Contender
While lacking in various modern amenities, plush materials and inspiring exterior style, the steadfast performance and undeniable versatility of the 2019 Toyota Corolla reveal the latest generation of this iconic model as a formidable contender for any novice driver, daily commuter or family seeking an affordable sedan or sport-inspired hatchback. The 2019 Toyota Corolla, through upholding its legacy of straightforward performance and reliability, may not strike fear into the hearts of supercar drivers, or catch the eye of pedestrians, or entice automotive enthusiasts with its exhaust note (or lack thereof) - however, for drivers seeking to comfortably and reliable reach their destination without spending a fortune on gas, repairs, or questioning their vehicle's capabilities, the 2019 Toyota Corolla stands as the ideal model.