"I Have a Dream Foundation" & YWCA - Boulder County
Larry H. Miller Toyota Boulder General Manager, Jarred Black, presented a check to I Have A Dream for $20,000! Since 1990, IHDF Boulder County has served more than 1000 local youth, and currently has 12 active Dreamer Scholar Classes. The model, with its one-on-one attention and daily programming, has proven to narrow the opportunity gap. Dreamer Scholars graduate from high school, enroll in post-secondary programming, and complete their post-secondary education at much higher rates than their low-income peers. Learn more about their Mission, Vision and History on their website, linked below. 
---
 2019 Best of Boulder Winner - Best New & Used Auto Dealer
"Larry H. Miller Toyota Boulder is our readers' choice for best new car dealer, but it speaks volumes that the dealership is also our readers' choice this year for the best place to buy a used car, too. That means our readers value the honesty, selection and quality of reflected in the cars on lot. You'll have your pick of a wide range of pre-owned Toyotas, but the dealership also has cars from a variety of makers, at a variety of prices, so you can upgrade your clunker in no time."
Read the 2019 Best Of Boulder Press Release
---
Impact On Education
Impact on Education supports all Boulder Valley public schools (BVSD). Their wide-ranging projects and programs drive innovation and foster excellence throughout BVSD, and impact over 31,000 local students and 4,000 educators each school year. Their focus is on improving equity, including addressing economic and learning barriers that curtail success, promoting innovation in education, and fostering excellence in instruction. The $10,000 grant will support their Opportunity Fund, which provides resources to ensure that all BVSD K-12 students can participate in extra-curricular clubs and sports, acquire school supplies and participate in enrichment experiences.
Learn More About Impact On Education
---
Larry H. Miller Toyota Boulder will be collecting unwrapped new and gently used toys in good working condition beginning Monday, November 26. All toys collected will be distributed on Saturday, December 15. Low-income parents living in the Boulder County School District are invited to the "Toy Shop" for desired gifts. Every child 14 years or younger will be able to receive a new and used gift, arts and crafts, books, bikes and stocking stuffers.
---
The Autism Society of Boulder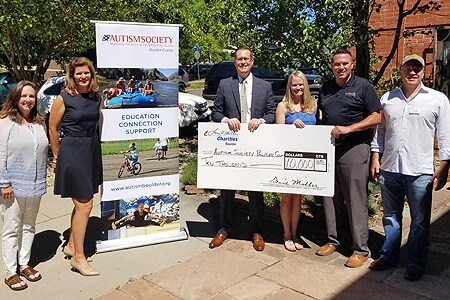 The
Autism Society of Boulder
received $10,000 from Larry H. Miller Toyota Boulder on Jun 21, 2017. The Autism Society will use their grant to advance their listening/storytelling program designed to educate the public on the personal stories of individuals with autism spectrum disorders. The stories produced will be archived in the Library of Congress as a part of the national StoryCorps Oral History Project.
---
Voices For Children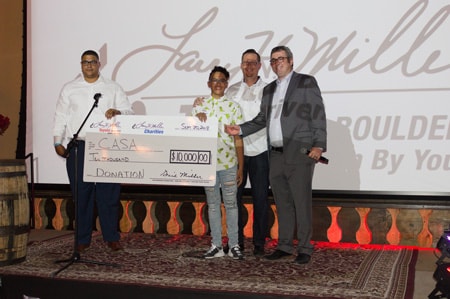 Voices for Children CASA have a Mission to provide trained, court-appointed  volunteers to advocate for abused and neglected children in Boulder County. Their Vision is that all children will have a safe, nurturing environment where they can thrive. 
Voices for Children CASA (Court Appointed Special Advocates) trains and supports community volunteers to advocate for the needs of abused and neglected children going through the court system. Our CASA volunteers make sure that the court system hears the voices of the youngest and most vulnerable whom it serves and provides these children with a consistent, positive adult in their lives; an adult who will tell them that they are beautiful, and smart, and worthy of love.
At the CASA Gala, Larry H. Miller Toyota Boulder used the opportunity to do a check presentation with money donated from both the Toyota match program ($5,000) and from Larry H. Miller Charities ($5,000) totaling $10,000 to help this amazing program serve our Boulder Community youth. 
Learn More About CASA
---
There With Care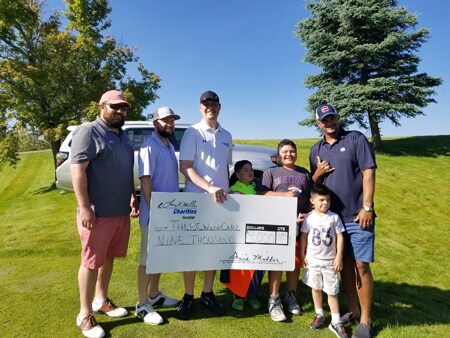 There With Care provides support to families with children facing critical illnesses that helps to offset financial and emotional stress during a medical crisis. A wide range of fundamental services are available, including transportation, baby essentials and meals, to ease the burden of life's day-to-day obligations with compassion and care. 
"The Larry H. Miller grant will directly impact more than 100 families with critically ill children in Boulder, Broomfield and the Denver metro area with transportation needs, including vehicle repair. It will also allow us to purchase 30 car seats for families in our program to ensure the safe transport of their premature newborns who are going home for the first time," said Dana Bacardi, vice president of development with There With Care.
Second Wind Fund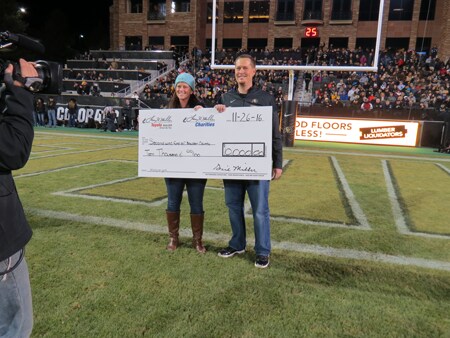 Second Wind Fund began in 2002 as a response to a tragedy of the suicide of four students at a Jefferson County high school in a nine-month time frame. 
In response to these four suicides, three members of a local faith community, Jeff LaMontagne, Dr. Majorie Laird, and Scott Fletcher organized a community "walk-run" event to show their desire to stand with the school.  It was decided that the money raised would be used to provide access to professional counseling services to youth at risk for suicide. 
Their Mission is to decrease the incidence of suicide by removing financial and social barriers to treatment for at-risk youth by the funding of direct counseling services to youth in Boulder County. The $10,000 donation from Larry H. Miller Toyota Boulder will aid in their efforts.
---
Safehouse Progressive Alliance for Nonviolence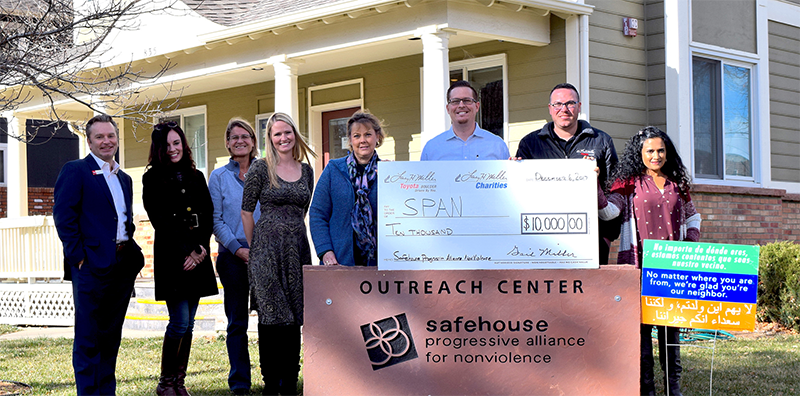 Employees of Larry H. Miller Toyota Boulder donated $10,000 to Safehouse Progressive Alliance for Nonviolence (SPAN) on Dec. 6, 2017 during the dealership group's "5 Weeks of Giving." The $10,000 donation will support Safehouse's Emergency Shelter program, which provides immediate crisis intervention and safe shelter to survivors of interpersonal violence and their children. The fastest growing segment of the homeless population in the Denver Metro area, and in the U.S., is woman and children, and domestic violence is the number one cause for their homelessness, according to SPAN. 
---
PLAY Boulder Foundation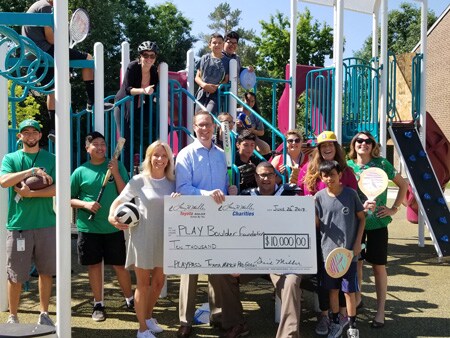 "The PLAY Boulder Foundation supports excellence in parks and recreation by mobilizing community support through education, philanthropy and advocacy." 
Larry H. Miller Toyota Boulder presented a $10,000 donation to PLAY Boulder Foundation that will help provide underprivileged kids in sports with the cost of equipment and transportation so they can participate. A huge "Thank You" to Larry H. Miller Charities and the Toyota Match Program for each donating $5,000 to this wonderful cause.
ELPASO - Engaged Latino Parents Advancing School Outcomes 

ELPASO is a new grassroots movement creating a critical mass of well informed and skilled Latino parents who will help ensure that more Latino children arrive at Kindergarten ready to learn. Now in its second year, the program has connected more than 700 Latino parents with the information, skills and resources critical to ensure their children are ready for kindergarten.
---
Muscular Dystrophy Association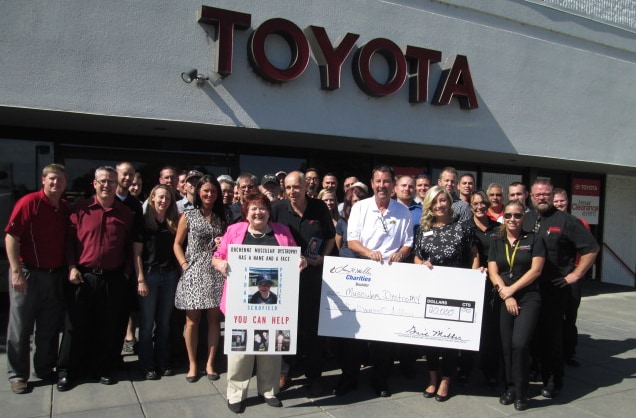 MDA
is the nonprofit health agency dedicated to curing muscular dystrophy, ALS and related diseases by funding worldwide research. The Association also provides comprehensive health care and support services, advocacy and education. MDA is currently funding $19.7 million in 58 research projects to find treatments and cures for Lou Gehrig's Disease (ALS). That's more than any other agency invests, including the ALS Association.
Larry H. Miller Boulder Toyota and Toyota made a donation to MDA of 20K to aid in research and support services.
---
There With Care

Boulder Toyota cares about the families that are going through difficult medical situations.  We are proud to work with There With Care to help these families out. There With Care's mission is to provide a wide range of thoughtful and fundamental services to children and families during the critical phase of a medical crisis. We serve families referred by medical agencies, by building a network of services and people who ease the burden of life's day-to-day obligations with compassion and care.
---
Toyota 100 Cars for Good Program
Larry H. Miller Boulder Toyota has been proud to be a part of the Boulder community since 1984. Throughout that time, we've supported the community in many ways. We're proud to announce we'll be presenting a 2014 Toyota Highlander to the "There With Care" Organization.  
The Toyota 100 Cars for Good program is awarding 100 vehicles over the course of 50 days to 100 deserving nonprofit organizations based on votes from the public. The 100 Cars for Good program benefits organizations that touch real lives and is the first Toyota initiative that engages the public in how corporate philanthropic donations will be awarded.

In memory of a very special child, Jack Bonelli, the new Toyota Highlander will be called the Baby Jack Care mobile. In addition to delivering groceries and providing rides to and from hospital treatments, the Baby Jack Care Mobile will help volunteers deliver diapers, car seats and baby items for families who have an infant in the Neo-Natal ICU. It's a meaningful way to honor Jack's beautiful young life, while being there for other families in crisis.

For more information on the Toyota 100 Cars for Good program, please visit www.100carsforgood.com. 
Since 1991, Toyota has contributed more than $700 million to nonprofit organizations. If you'd like to learn more, please visit www.toyota.com/usa/community/index.
---
Second Wind Fund of Boulder County
Larry H. Miller Toyota Boulder presented a $10,000 donation to the Second Wind Fund of Boulder County (SWFBC) in front of a sold-out crowd of University of Colorado and University of Utah football fans on Saturday, November 26, 2016. The donation will support strategies aimed at decreasing the incidence of youth suicide. The work of the SWFBC helps remove financial and social barriers to treatment for at-risk youth by providing counseling services through schools and community agencies.
Second Wind Fund collaborates with communities through schools, agencies, and professional therapists to ensure suicidal youth have access to mental health services when they need it. SWFBC stands apart locally in that the organization's program provides mental health services specifically to suicidal youth clientele. Through their relationship with private therapists, the SWFBC is often able to arrange counseling sessions within hours of a call from one of their referral sources.
Emergency Family Assistance Association
Jarred Black, the General Manager at Larry H. Miller Toyota Boulder, presented a check for $10,000 to the Emergency Family Assistance Association on Saturday, October 6 during the University of Colorado Boulder vs. Arizona State University football game. The grant will directly support the Job Uptake for Motivated Parents program, also known as JUMP. In conjunction with WorkForce Boulder County, this initiative provides career counseling and job-readiness training for parents living below the federal poverty line, resulting in access to higher-paying jobs. This enables families to gain financial stability and self-sufficiency, allowing for greater opportunities for themselves and their children.
Learn More About EFAA
---
Larry H. Miller Toyota Boulder has been a supporter of Via for over a decade. In 2017, Via leveraged a grant from the Daniel's Fund and Larry H. Miller's partnership to obtain two new Toyota Prius vehicles for our Volunteer Driver program.
Access to transportation is essential. Via's volunteer driver program allows members of our community the ability to maintain a certain level of freedom and independence that they might not otherwise have.
For Larry H. Miller Toyota, a partnership with Via is a perfect fit. "Larry Miller actually had a saying 'Go about doing good until there's too much good in the world.' so that's a big deal for us here at the dealership. It's an ongoing effort to enrich the lives of those in [our] community." said Jarred Black, General Manager.
Stuff for Students - School Supply Drive
The Stuff for Students drive - now in its 18th year - provides supplies for kids in more than 15 Colorado school districts.  More than 15 school districts will receive the supplies, and financial donations will help purchase additional items. To make a financial donation for school supplies, visit voacolorado.org. Thank you for your donation!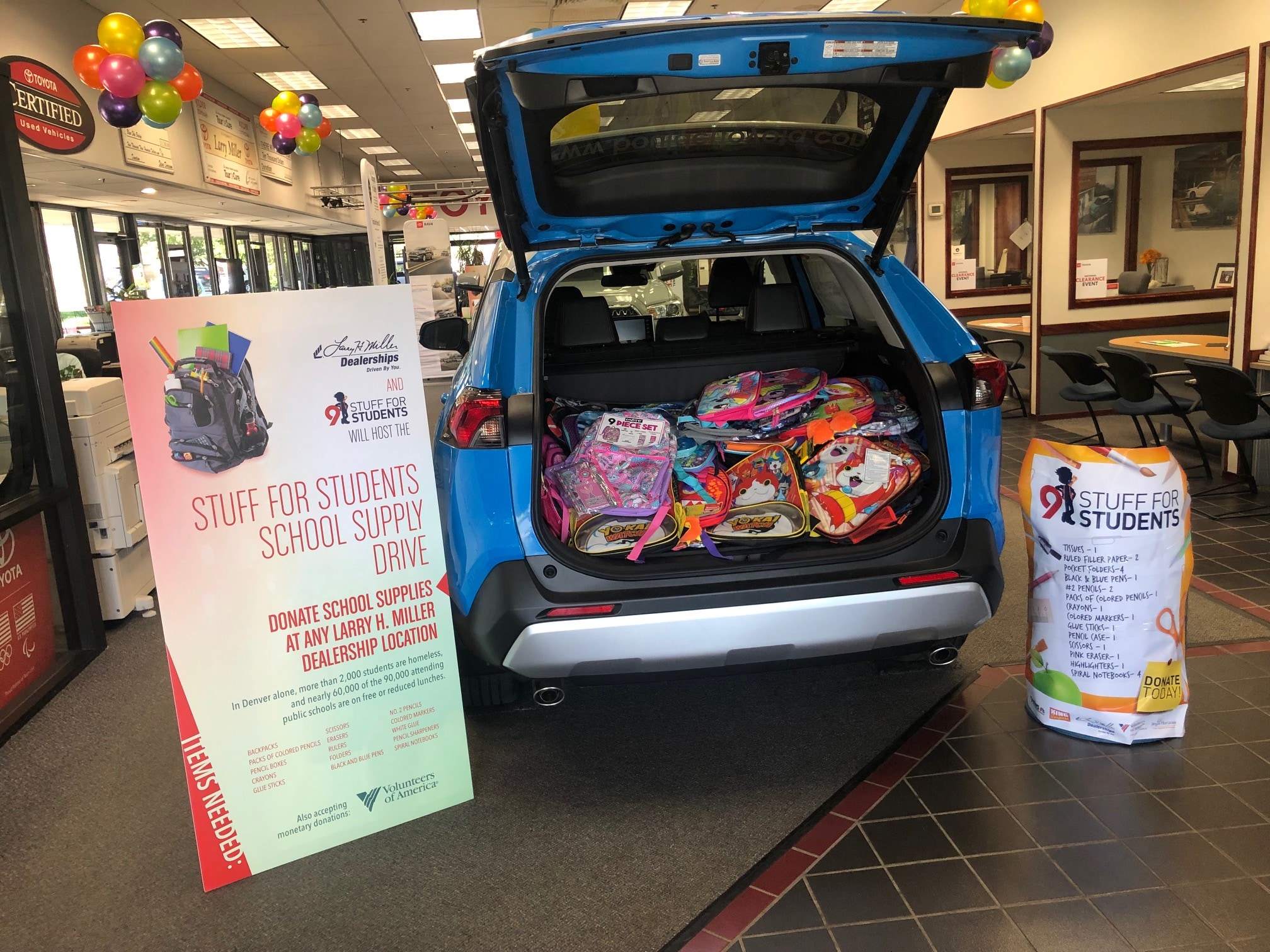 10 Days of Giving 2017
Donations were presented during the 2017 holiday season to help positively impact the lives of Coloradans throughout the holiday season. Employees of Larry H. Miller dealerships in Colorado donated more than $75,000 to various charitable programs, collected toys at the dealerships for area children and families, and volunteered their time in the communities they serve.
---
YWCA Boulder County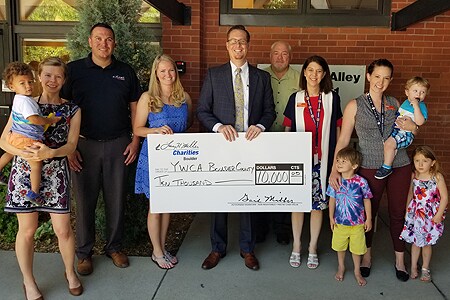 Larry H. Miller Toyota Boulder donated $10,000 to
YWCA Boulder County
on June 21, 2017. The donation to the YWCA will be used towards their Children's Alley program, which serves as Boulder County's only drop-in childcare center with sliding scale fees. 
"Colorado is ranked one of the five least affordable childcare states in the nation, and childcare in Boulder is among the costliest along the Front Range. The average cost of center-based infant care in Boulder was $17,628 a year in 2014, which is 73 percent of the income of a family of four living at the federal poverty level," explained Amanda Piper, CEO, YWCA Boulder. "Our goal is to help women and their families reach a level beyond short-term sustainability to long-term. This is exactly what this grant will support and we are truly grateful to Larry H. Miller Toyota."
---
YWCA & Autism Society of Boulder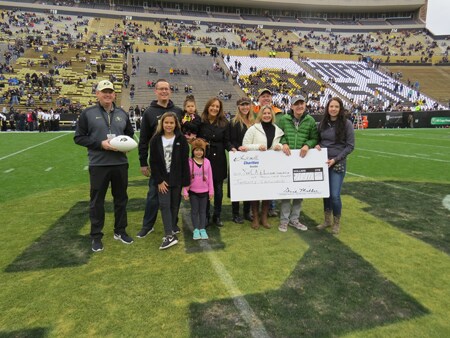 To aid two charities that make a big impact in the Boulder community, Larry H. Miller Toyota Boulder donated $20,000 to YWCA and the Autism Society of Boulder!
The Autism Society of Boulder County (ASBC) helps individuals with autism spectrum disorders and their families develop a strong, united community by creating opportunities for people to connect, share experiences and build new relationships. 
In Boulder, YWCA has evolved over the years from boarding house to social club and today is a human service agency. We are a non-sectarian nonprofit that is not affiliated with any religious group. We are a publicly funded, inclusive organization that welcomes everyone to participate, male and female alike.
Attention Homes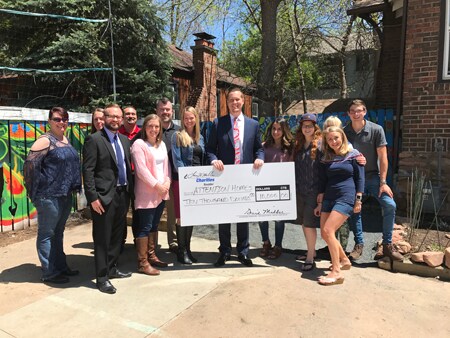 Larry H. Miller Toyota Boulder donated $10,000 to help Attention Homes better serve local youth in crisis. Their Mission is to provide life-changing resources to these kids and their Vision is "A world where every young person has a safe place to live and the attention they need." 
Attention Homes offers youth emotional and behavioral support in a safe, structured, RCCF-licensed (Residential Child Care Facility) home-like setting. Their goals are to build behavioral, emotional and career-related pathways for success, reunite the youth with their families and teach them all the skills necessary to be self-sufficient.
Boulder Asian Pacific Alliance 
The Boulder Asian Pacific Alliance (BAPA) is a non-profit organization dedicated to creating awareness and understanding of the diverse Asian and Pacific Islander cultures in order to promote our perspectives into the larger Boulder community.
BAPA was founded in 1994 and represents the Hmong, Japanese, Chinese, Laotian, Cambodian, Vietnamese, Korean, Filipino, Malaysian, Indian, Thai, Tibetan, and Nepalese cultures. 
All individuals from Asia and the Pacific Islands, as well as those who have an interest in these cultures, are invited to become active members of the alliance. Every summer a BAPA Asian Festival takes place in Boulder and is free & open to the public. Boulder Toyota is a sponsor of this event which offers music, dance, food, martial arts, crafts, and yoga.
---
Boulder Toyota Community Tree Campaign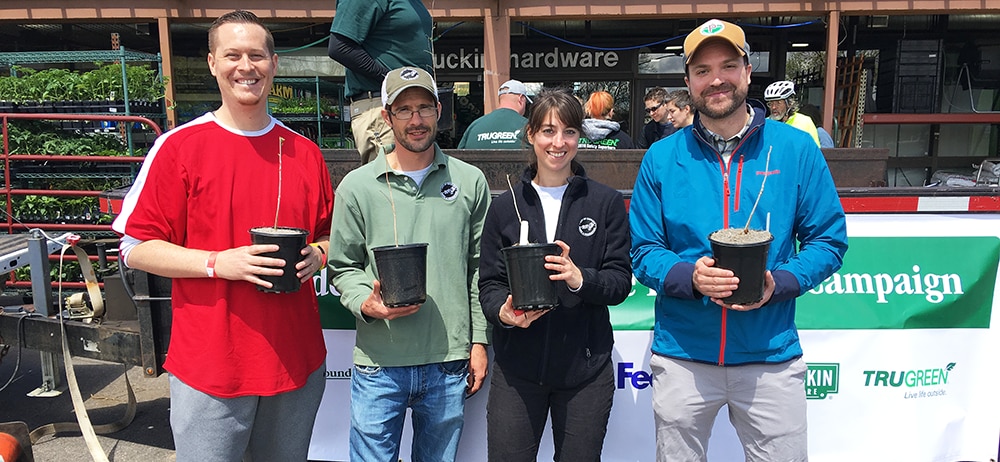 Larry H. Miller Toyota Boulder and the Arbor Day Foundation partnered to replant the damaged Boulder landscape. For every vehicle sold during the month of April 2017, Boulder Toyota donated $15 to support the Community Tree Recovery Campaign, which provided free ash trees to Boulder residents on Earth Day (April 22) 2017. Local neighborhood ash trees are being destroyed by an invasive beetle and it's killing millions of trees The Arbor Day Foundation is working to remove these trees and provide new ones in Boulder County.
---
Elephant Passage - Denver Zoo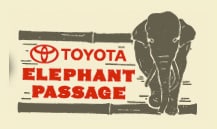 Larry H. Miller Toyota Boulder is a proud partner in the
Toyota Elephant Passage
- the largest and most ambitious project in Denver Zoo's history opening June 1st.  The seven metro Denver Neighborhood Toyota Stores have a strong commitment to the community and support Denver Zoo's efforts to provide outstanding family experiences and educational opportunities.
Occupying 10-acres on the southern edge of the zoo, Toyota Elephant Passage's expansive complex will  allow visitors to explore and discover the rich history of animals in Asian culture, their complicated relationship with humans and the efforts of Denver Zoo and its colleagues to protect their future.  Toyota Elephant Passage will provide habitats for Asian elephants, Greater one-horned rhinos, Malayan tapirs and many other animals. Some are saying Toyota Elephant Passage will be the best elephant exhibit in the world.
---
Via Mobility Services
Via
is a full-spectrum mobility manager offering transportation, travel training, mobility options information and referral and a wide range of community resources. Their services provide a lifeline and a bridge to the community for many who have challenges with mobility. Via contributes to enhancing independence and quality of life by  providing transportation and mobility options in 19 communities in five counties in Colorado. 
---
University of Colorado - Go Buffs!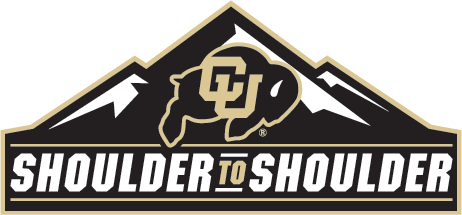 Boulder Toyota is a proud sponsor of CU - Go Buffs!

Cu is an important part of our community and the world.  With their contributions to the Olympic games, their academic programs and their athletics CU is tough to beat!
---
Autism Society of Boulder County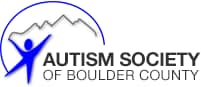 The Autism Society of Boulder County would like to acknowledge, with gratitude beyond words, the generous donation of $13,000 that we received last month from Larry H Miller Toyota Boulder. This gift felt like Christmas-come-early. Manager Steve Doersam approached members of ASBC with an initial contribution of $8,000; we were astounded. We were even more astonished to receive an additional $5,000 in corporate matching funds from Toyota. These funds are being earmarked for some of ASBC's many programs and services, including educational grants and recreational grants for kids, teens and young adults who have autism. ASBC is grateful to Steve and the rest of the team at Larry H Miller Toyota Boulder for recognizing the needs of the local autism community and for supporting ASBC in its mission to aid this community. Mil gracias!